Cyber Runway - Manchester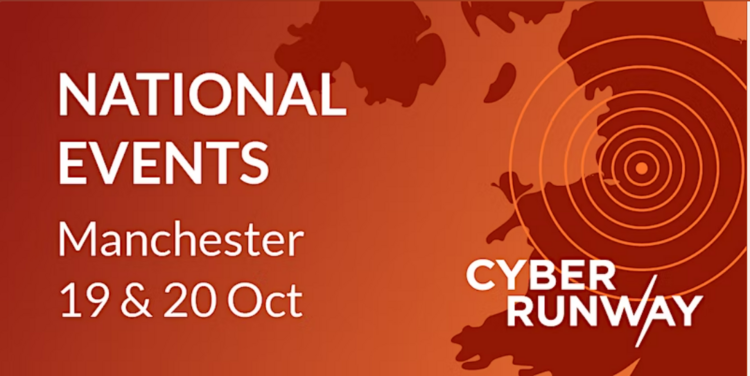 Cyber Runway is the UK's largest cybersecurity accelerator that's being delivered by Plexal, Deloitte and the Centre for Secure Information Technologies and is backed by the Department of Culture, Media and Sport (DCMS).
They're hosting a two-day event in Manchester to bring the community closer together. Register to join them for networking, insights and a chance to hear from, and connect with, leading innovators from the ecosystem.
19th October 2022 - Insights into the North West Cyber Sector & Growth Opportunities
09:30 Networking / Registration - Join us for breakfast, coffee and build your networks.
10:00 Welcome / Cyber Runway overview / aims for the event – Jon Lomas, Lancaster University/DiSH / Arutyun Arutyunyan, Plexal / James Stanely, DCMS
10:15 Phil Swan, GMCA, GM's Digital Ambition - Phil will provide an overview on Manchester's digital ambition, capability and capacity; and the rapidly developing cyber eco-system in the region.
10:45 Public Sector Speakers - progressing industry/SME engagement and addressing the challenge of diversity within the sector.
11:15 Coffee
11:30 Sam Donaldson, Director, Perspective Economics - Sam will present detailed insights into the DCMS Cyber Sector Analysis Report 2022 and explain how GM can use this information to identify and maximise business growth opportunities by examining the background to the cyber security sector, growth areas identified, determinants; factors for securing VC investment and cyber security labour market.
13:00 Robert Briggs, North West Cyber Cluster Lead – Stronger together, consolidating the cluster of cyber sector companies across the region. - The North West is a central point for cyber security growth in the UK and will be for some time to come. From innovative products and start-ups to established organisation there are opportunities for all. As an industry the regional cluster or organisations will us develop stronger and faster. Robert will talk about how the NWCSC can help companies of all sizes collaborate to maximise the use of these opportunities.
13:30 Lunch & networking - Time to refuel and network with peers, speakers and members of the support network and ecosystem.
14:15 Company pitches – an opportunity for attendees to share their plans, challenges and future direction of travel with peers and speakers.
15:45 1:1 Meetings - We have allocated this afternoon session for 1:1 meetings with our range of speakers to enable you to discuss plans for growth, challenges ahead and opportunities for development.
17:00 Close
17:30 Evening social - Pizza's, refreshments and a chance to network.
Register here