CyberASAP Year 6 Showcase & Demo Day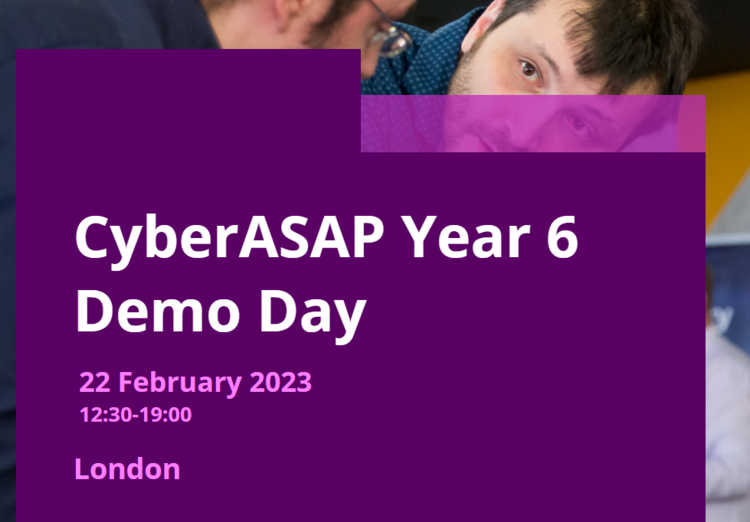 Join CyberASAP and be the first to preview a range of highly promising cyber security products and services from leading UK academic teams. Hear their pitches and assess their offerings in this unique showcase of ready-to-commercialise cyber security innovations.
Discover cyber security prototypes with real commercial potential
To keep our highly-connected world safe, we need a continuous pipeline of innovative cyber security services and products. Many of those originate in academic labs throughout the UK, with prototypes of the very best developed and accelerated via CyberASAP (Cyber Security Academic Start up Accelerator Programme).
The CyberASAP Demo Day is where you have the chance to preview these Proofs of Concept and meet the talented teams behind them, for the very first time.
Who should attend
All those interested in supporting the cyber security ecosystem are invited to attend this event, particularly Investors and potential commercial collaborators.
As there is limited capacity at the venue, we would invite you to express interest in attending by completing the form and one of the team will be in touch.
Agenda
12.30: Registration & Networking with light lunch and refreshments
Alumni Spinout Showcase
New for Demo Day 2023, this is an opportunity to network with some featured spinout companies from previous CyberASAP cohorts.
Come and meet some dynamic startups looking for investment partners/commercial collaborations: ZORB, FACT360, Lupovis, Riskocity®, Cavero Quantum, True Deploy and OSIRT Ltd.
14.00: Welcome from Dr Emma Fadlon
Co-Director, CyberASAP, Innovate UK KTN
Keynote from Erika Lewis
Director of Cyber Security and Digital Identity, Department for Science, Innovation and Technology (DSIT)
Pitches from 15 CyberASAP Year 6 finalists
(See below for team and project details.)
16.00: Demonstrator Showcase, networking & drinks reception
19.00: Event close
CyberASAP Year 6 Finalists
Lasting Asset – Edinburgh Napier University
Protecting crypto assets with the latest in custody technology
MoFish – Oxford Brookes University
Connecting IT systems to cloud services with cyber-safe technology
DRS'OSA – De Montfort University
The holistic security solution ensuring cyber-resilient railway systems
GICAST – Open University
Delivering lasting cyber security behavioural transformation for businesses
ROS-PCon – University of West London
Protecting industrial robotic systems from cyber-physical attack
ANTHEM – Loughborough University
Rapid and autonomous threat modelling using innovative AI technology
CyGamBIT – Bournemouth University
Interactive cybersecurity games helping young people to stay safe online
REFRESHMENT BREAK
PINCH – Lancaster University
Specialist cyber security software and consultancy for AI-enabled businesses
CLADDED – University of Warwick
Detecting and deterring attacks on electric vehicle charging points
CASPER Shield – Cardiff University
Providing cyber-physical security and safety for smart homes
Hackivity Cybersecurity Labs – Leeds Beckett University
Providing safe environments for hands-on hacking and cyber security education
D-PRIV for Safer Data – Teesside University
Data anonymisation software to help businesses protect confidential information
ATDPS – University of Sheffield
The unique security solution protecting businesses from zero-day trojan attacks
D-RON – Queen's University Belfast
Detecting and preventing rogue drone behaviour using digital twins
IoTrim – Imperial College London
Making IoT device connections secure with privacy-preserving AI
Click here to register for this free event