Healthcare and Cyber Conference 2023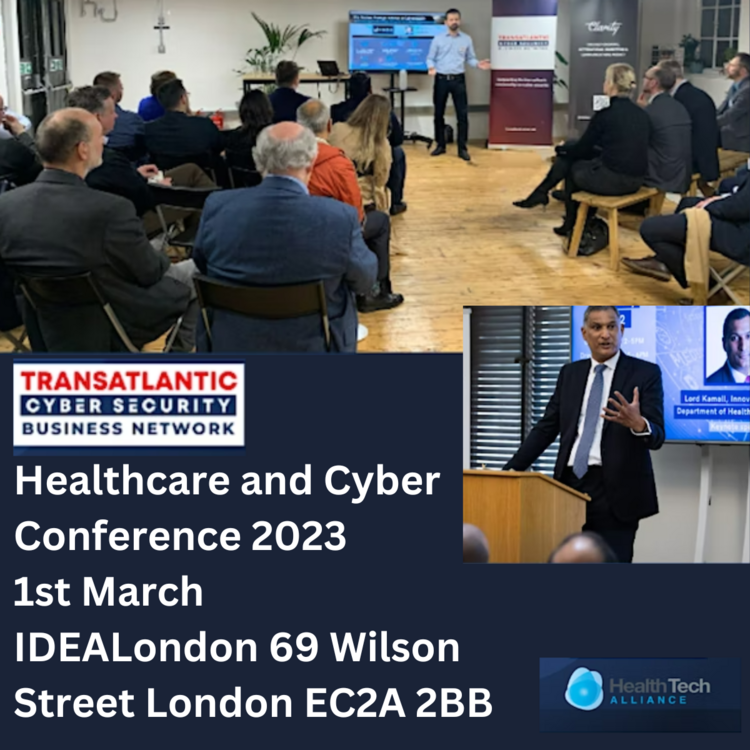 The Transatlantic Cyber Security Business Network (TCBN), in partnership with Health Tech Alliance (HTA), is delighted to announce its latest event - The 2023 Healthcare and Cyber Conference - hosted on Wednesday 1st March, 2pm - 6.30pm at IDEALondon, Wilson St, London.
Positive steps have clearly been taken across the UK's health service since the WannaCry attack in 2017. But the sector remains one of the most targeted to malicious cyberattacks globally, paying the highest price for data breaches and endangering its ability to function.
The recent advanced malware attack on the UK's NHS this summer has once again highlighted cybersecurity as a critical patient safety issue requiring urgent solutions and collaboration between cybersecurity vendors and health stakeholders.
In addition, the ongoing workforce shortage and patient backlog means the NHS has limited capacity to cope with further cyber attacks alongside these issues. It is therefore crucial that contemporary and future solutions are found to support the NHS and minimise its cyber risk.
In this event, TCBN look to help tackle these issues head on, bringing together key stakeholders from the UK health sector and representatives from our industry to explore the main cyber priorities and concerns affecting the health space.
You are welcome to join the TCBN and HTA teams as we explore these important health conversations through our keynote speakers and in-depth panel discussions. The event will be concluded with a networking reception, where speakers and attendees will have the opportunity to connect over refreshments.
N .B. This event is limited to a capacity of 100 and only open to TCBN members, HTA members, health & government representatives and academics. If you do not fall into this criteria but still wish to attend, then please reach out to the TCBN team to discuss attendance via [email protected].
Register here