Midlands Cyber - BSI - ISO/IEC 27001:2022 Transition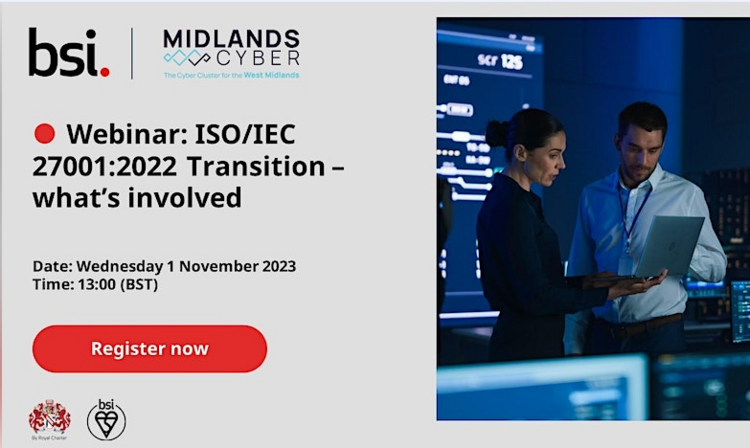 Midlands Cyber, the recognised cyber cluster for the West Midlands is holding this webinar event in partnership with BSI on 1st November.
The focus of this event is to ensure you are continuously updated around compliance by offering this FREE webinar to discover the updates generated by ISO/IEC 27001:2022.
ISO/IEC 27001 Information Security Management has been updated to reflect new business practices, such as remote working and increased dependencies on cloud services. The updated standard provides more robust controls, enabling your organization to address increasingly sophisticated security risks and ensure business continuity.
To find out more about the new revision to this standard join this webinar, where they will discuss the changes to ISO/IEC 27001:2022 Information Security.
Join this session to:
Learn about the key changes to ISO/IEC 27001
Understand why ISO 27001 is changing
Hear about ways of managing the risks associated with new ways of operating, such as cloud services
Discover how certification enhances ability to safeguard sensitive information, and establish yourself as trusted leader in the field of security information
Cant wait for the webinar? Find out more about 27001
Speaker: Bob Gettings BSI UK&I Technical Delivery Manager for Digital Trust
Book your place