Open call: The ScaleUp Accelerator March 2021 Programme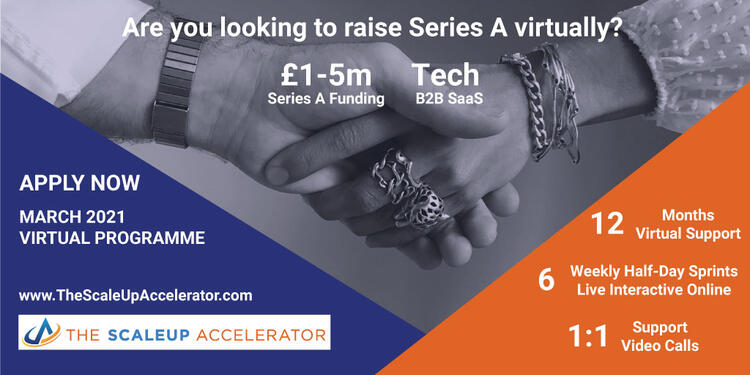 If you are a UK B2B Tech / SaaS company currently at £500k to £1.5m net revenues and looking to raise £1-5m equity investment, 2021 could be the year for you!
The ScaleUp Accelerator's next programme starts in March 2021, offering a unique combination of upfront intensive learning and long-term support. It will enable CEOs and Founders to develop a credible plan and investor proposition to raise their Series A and grow to £10m and beyond.
Programme Structure
The Programme of training, mentoring and support, starts with 6 half-day deep dives delivered in the first 6 weeks, accompanied by continuous one-to-one support for up to 12 months.
The format is live, with scheduled sessions across each half-day sprint, with around 5 hours per week of interactive online sessions to participate in as a cohort, including one-to-one video call support to discuss the application of the learning into your scaleup.
Find out more about the Programme and its structure here.
Apply today.
Read about 5 key things to help you prepare for VC funding.